Mailbox Services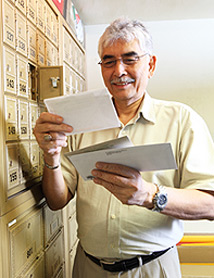 Mailbox & Mail Forwarding Services offered by MBE are like having a personal assistant in charge of your mailbox. No more waiting hours for courier pick-ups or to receive an important letter or package. No more worrying about theft or the rain flooding your mailbox.
With MBE's professionally managed mailboxes, you get easy access to your mail, and a budget-friendly alternative to renting an office that lets you perform other tasks all in one convenient location.
It also eliminates the need for office supplies and services. Moreover, you can easily avail the document services to make management of documents easier.
Plus, you get a prestigious business address while your real address stays private. If you live outstation or travel for extended periods, you'll also appreciate the ability to forward your mail to anywhere in the world, anytime.
Fully serviced P.O. Box with a real street address

Package notification - we'll let you know when your packages arrive via email

Call-in MailCheck™

Mail forwarding

Package acceptance from all courier services

Different mailbox sizes and capacities to suit your needs
What does a MailBox at MBE offer that a normal P.O. Box can't?
Street Address
A proper street address is important to enhance the image of the customers' business.
For example, a mailbox at MBE will carry the following address:
Your Company Name
Suite #_ _ _ _ _ , MBE Desa Sri Hartamas,
No.30 Ground Floor, Jalan 25/70a,
Desa Sri Hartamas, 50480
Kuala Lumpur, MALAYSIA.
Mail Forwarding & Holding
One of the best features of our Mailbox & Mail Forwarding Services is that we forward all your mails to any part of the world. All you have to do is to keep a mail forwarding credit of Min. RM150 and we will be able to forward customers' mails to any part of the world as per their instructions. Let us forward your mail to you. Simply leave your documents or packages with us, and whenever you're ready, let us know and we'll send them out immediately. It's perfect for small businesses that need to deliver items on a regular basis. It also comes in handy when you're not around for an extended period of time – just have your mail addressed to your MBE mailbox and we'll forward them to you, in any part of the world. We also provide packaging solution of all kind of mails. Moreover, the ease of computer rental and internet access services can also be provided upon requirement.
MailCheck™
Have you ever been to a post office to check your P.O. Box? You might know how difficult it can be to go and regularly check the P.O. Box. Our unique MailCheck™ service allows the customer to call in to check whether they have any mail in their mailbox. Unlike a P.O. Box, MailCheck™ service saves them the hassle of having to personally check their mails in their mailbox all the time. Alternatively, we can inform the customer through e-mail, if a courier package or registered mail has arrived. For more convenience, you can also avail the parcel pickup an, drop off and return services without any difficulty. MBE Business service franchise network has got you covered in all aspects.
Parcel & Registered Mail Receiving
None of the courier companies deliver to a P.O. Box address mainly because there is no one to sign and take responsibility for the package. At MBE, it is different as we are operated by staff who can sign and hold the customers' parcels or mails on their behalf.
Mailbox Fax Message Handling Service
Exclusively for our mailbox holders, this service allows the mailbox holders to use our fax number as their business number to receive faxes or correspondences.